We may earn money or products from the companies mentioned in this post.
No matter how organized you are there comes a time in life when there are just too many things to keep track of. As a homeschooling Mother of 10, part time blogger/freelance writer and baseball/ballet/piano mom, I am using Homeschool Planet from Homeschool Buyers Co-op as my master calendar to help take charge of my life.
Homeschool Planet is the newest resource offered by the Homeschool Buyers Co-op. It is THE scheduling program to cover your work, home, and homeschool life all in one place. This works great for a person like me who has many outside activities that tie back-and-forth with our homeschooling life. Often it would be great to see everything for every person in one place. I have tried coordinating my Google calendar to connect my family's schedules but, it seems like events always fall through the grid and get missed. With Homeschool Planet all of us are represented on one calendar yet, with their filtering option I can look at each and every individual. The makes it easier to plan for their courses and activities individually and then compare it with our entire family schedule.
Years ago I used a program on my computer that scheduled all of our homeschool curriculum. I loved using it and was really disappointed when the program was no longer available to update. Homeschool Planet has all the great features I loved plus many more. We have the ability to move our lessons forward if we miss a day of school or have an appointment with the ease of a click of a button. I also have the ability to add new subjects had any time to any child throughout the school year. The program can schedule the whole school year through with a few setting. I can leave these vaguely general by saying do one lesson a day or I can fill all of the information for the book that we are currently doing and have a specific lesson by lesson for page by page schedule if I wanted. In the past I have avoided being this detailed because our days change. If we lose a week to sickness or vacations everything I did I would be lost but, with Homeschool Planet all I need to do is bump that activity forward to the next available date that I desire to be in on. I can even print out the schedule weekly or daily for the group of students or an individual child to keep them on track and accountable.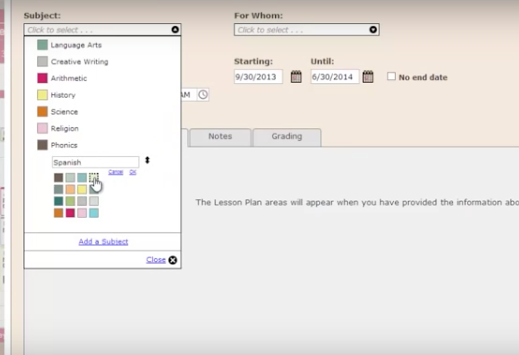 Better yet homeschool planet has dozens of ready to use ready to go schedules for programs and curriculums I already use at home. To the end of June (2017) they are offering a free month trial of homeschool planet AND the ability to download a FREE Lesson Plan of your choice. We chose to download the Rosetta Stone schedule. This will help up keep track of everyones progress a lot better than we have been. Every lesson is broken into time frames week by week. I love never having to guess if my kids are keeping on task or staying on pace. A clear schedule does just that.
I will also be purchasing a Life of Fred Lesson Plan. I bought the books last year but found out that I do not work well without a schedule. I am hoping that having a schedule will really help us love the curriculum we have already bought a whole lot more. I hate wasting money. Sometimes a small tweak like a clear schedule is all we need to start loving a product we were having trouble with before. I like being smart with my dollars and I bet you do to.
Get the discounts your family needs to use great products you will love
Homeschool Buyers Co-op has been a trusted name in homeschooling for decades. They were the first to really start offering homeschoolers the same bulk purchasing power that the public schools have access to. A membership with them is free and guarantees the deepest discounts on all of the highest quality programs and learning tools. You also earn points on every purchase, and you can redeem your accumulated points for real teaching materials. If is great for people like me who are always helping people find resources that fit their family. Even sharing your favorite programs will earn your purchasing points. When is the last time your favorite store offered you free products because you told your girlfriend where they sell the cutest boots or dresses.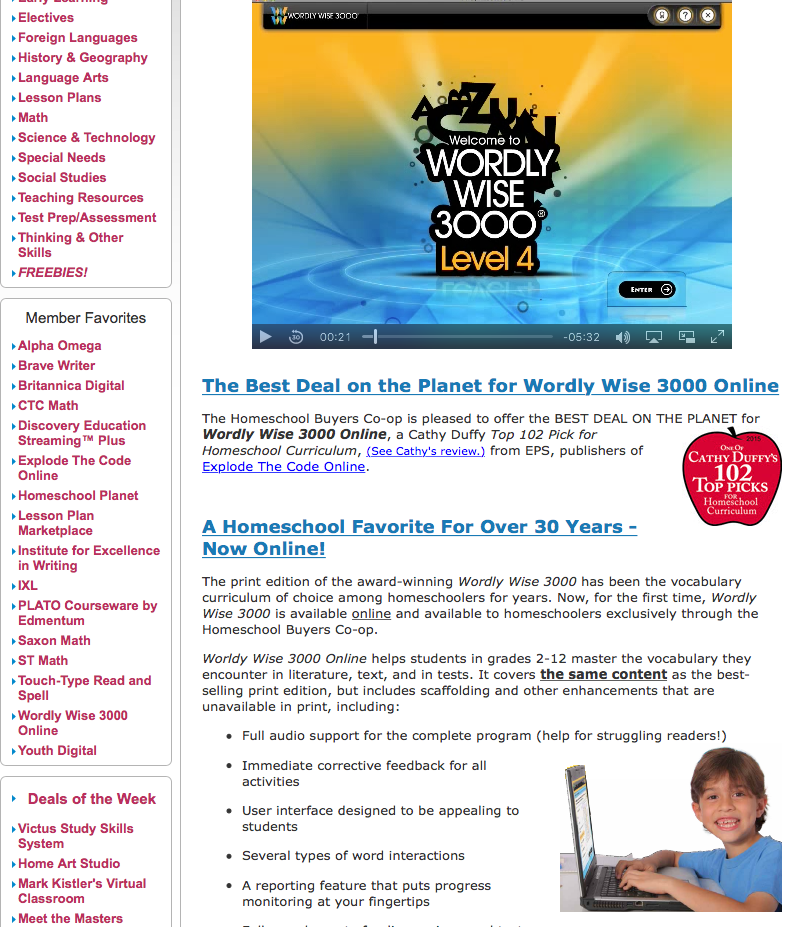 Right now they are featuring discounts on programs I would like to try like; 60% off of Discovery Education's Streaming Plus and programs we already use like 30% off of CompuScholar and 39% off of Rosetta Stone with FREE shipping and bonus points. Do you use Wordly Wise Online? Homeschool Buyers Co-op is able to give members an 89% discount. How is the for saving your homeschool budget.
Check out how other families are using Homeschool Planet and Homeschool Buyers Co-op in the link below.
SaveSave